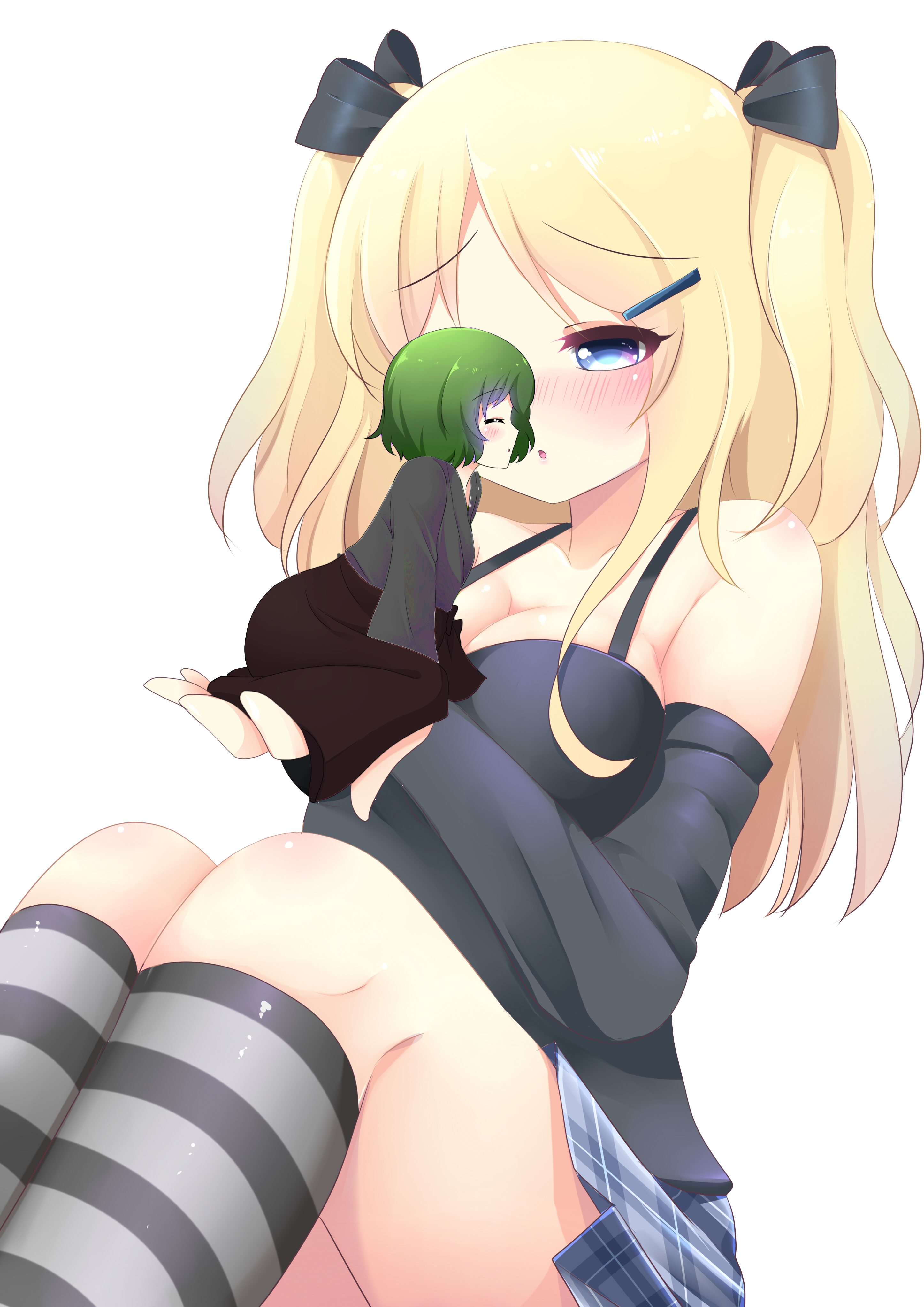 Goddess Complex II Ultra
A downloadable game for Windows, macOS, Linux, and Android
This is probably a lot longer than the first and much more complex and better. The game is not as easy as the first, it's hard to beat it without losing a few times(but there are almost always bad endings instead of straight game overs) The game has some darker moments. You must get some hidden events to get the true ending, so I recommend you to be curious while playing.
Press F4 for fullscreen. Hold Shift and interact to measure power levels.

The second game starts at the end of the first, the events take place sometime after the "tiny Master" starts living with the girls.
Remember: you can measure the power level and now "love level" of a-n-y-t-h-i-n-g except the walls (most of the times), including chairs, treasure chests, etc, by pressing shift-key while interacting. It will activate another branch of events.
You should also save often and be very careful when selecting choices.
Contains GTS(All characters except you are Cute, Giant girls), Harem. You'll play as the last male human in the entire Universe. Contains nudity.

If you don't know what GTS is, why not give it a try to see if you like it? The game is not purely GTS focused, and have a very complex and intriguing story, the content is quite light-hearted and comedy focused, with some darker, more serious moments and a good focus on character development. If you only played GCI, try playing GCIGTS to see if it's your thing or not, it's free.
Don't forget to rate the game here on itch.io if you like it, thanks.
Credits for most of the art: Bikuta: https://www.pixiv.net/member.php?id=4524456
Commissioned: Ikazu-Art-401 https://ikazu-art401.deviantart.com/ and GreenMatcha https://greenmatcha.deviantart.com/.
Credits for free plugins and free to use with attribution:
Title screen Art of GCIII by Kou_Art: https://www.flickr.com/photos/130239861@N06/
Modified face sets credits Palxan, Verbordina, Kadokawa/Enterbrain.
Yep Message Core, Yep Core Engine, Yep ActSeqPack2, Yep BattleEngineCore, YEP_ButtonCommonEvents, YEP_MoveRouteCore, Yep_DashToggle, YepFPSSynchOption : Yanfly Engine Plugins.
SOUL_MV Control Battle: Soulpour777.
TDDP_BindPictures_To_Map: Tor Damian Design/Galenmereth.
Hime_PreTitleEvents: Hime.
SlotMachine: Takeya Kimura.
Wushing: mjshi.
Galv_Custom_Title: Galv.
MushMenuOption: MushroomCake28.
This is a work of fiction, any resemblance to actual persons, living or dead, or actual events is purely coincidental.
| | |
| --- | --- |
| Status | Released |
| Platforms | Windows, macOS, Linux, Android |
| Rating | |
| Author | gtswaifuism |
| Genre | Action |
| Made with | RPG Maker |
| Tags | 2D, Action-Adventure, Anime, gentle-femdom, giantess, god-complex, japanese, nudity, RPG Maker, waifu-harem |
| Average session | A few minutes |
| Languages | English |
| Inputs | Keyboard, Mouse |
Install instructions
Download from Mega, extract and execute game.exe.